If you're looking for a place to do your laundry, get your dry cleaning done and even have your attire altered, Megawash Laundry & Cleaners is your destination. We offer a complete range of laundry services in Bellingham, Whatcom County, Agate Bay, and Sudden Valley, WA, dedicated to helping you keep your clothes in their best condition. Our complete laundry services include:
Alterations
Delivery service
Drop-off service
Dry cleaning
Dry cleaning leather
Dry cleaning wedding dresses
Rug cleaning
Wash, dry, fold
Bring a fist full of coins to wash and dry your laundry yourself or check out our dry cleaning services in Bellingham, WA if you've got attire that needs special attention. From your leather jacket to your wedding dress, rugs to everyday attire, we'll tackle tough stains and general cleaning. We guarantee your item will be restored to its original condition!
Drop-off Service Hours
Don't have time to stick around and wait for your laundry to finish? No problem! Drop it off with us and we'll take care of the work for you. All you need to do is pick it up at the end of the day.
Weekdays
10am to 6pm and 8pm to 1am
Saturdays
11am to 3pm and 8pm to 1am
Sundays
8pm to 1am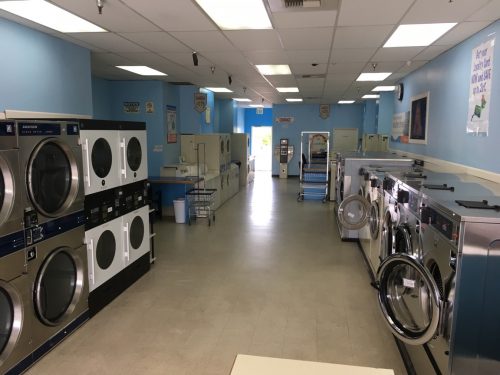 Delivery Service
Suffering from a busy schedule? Don't have time to pick up your laundry the day you need it? No problem! We'll deliver your laundry and dry cleaning items directly to your door cleaned, folded, fluffy and ready to wear.
Alteration Services
Have an item of clothing that doesn't fit how it used to? Avoid shoving it into the back of your closet and let us fix it so you're able to wear it again! We offer on-location alteration services in Bellingham, WA. Place an order and you'll receive your new and improved clothes back in no time! For alterations, we can replace zippers, make size adjustments, sew hems, cuff sleeves or pants and fix or replace loose, missing or discolored buttons.
Check Out Our Wide Variety of Services
Have a special request beyond our normal wash, dry, fold services? Stop in and let us know what we can do for you. We're always looking for new ways to please our customers! Our experts look forward to providing you with the highest level of laundry services! Contact us today at 360-733-3101.